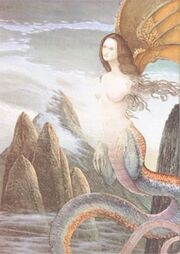 Echidna
is the daughter of Phorcys and Keto and the wife of
Typhon
. She was known as the
"mother of all monsters"
.
History
Echidna was described by Hesiod as a female monster spawned in a cave, who mothered, with her mate Typhon, almost every major and minor horrible monster in the Greek myths. Echidna was usually considered an offspring of Tartarus and Gaea, or of Ceto and Phorcys (according to Hesiod) or of Chrysaor and the naiad Callirhoe, or Peiras and Styx (according to Pausanias, who did not know who Peiras was aside from her father). Echidna was a dracaenae, with the face and torso of a beautiful woman (depicted as winged in archaic vase-paintings) and the body of a serpent, sometimes having two serpent's tails. She is also sometimes described as Karl Kerenyi noted an archaic vase-painting with a pair of echidnas performing sacred rites in a vineyard, while on the opposite side of the vessel, goats were attacking the vines: thus chthonic Echidnae are presented as protectors of the vineyard.
The site of her cave Homer calls "Arima, couch of Typhon." When she and her mate attacked the Olympians, Zeus beat them back and punished Typhon by sealing him under Mount Etna. However, Zeus allowed Echidna and her children to live as a challenge to future heroes. She was an immortal and ageless nymph to Hesiod (Theogony above), but was killed where she slept by Argus, the hundred-eyed giant.
Appearance
Personality
Capabilities
Ad blocker interference detected!
Wikia is a free-to-use site that makes money from advertising. We have a modified experience for viewers using ad blockers

Wikia is not accessible if you've made further modifications. Remove the custom ad blocker rule(s) and the page will load as expected.